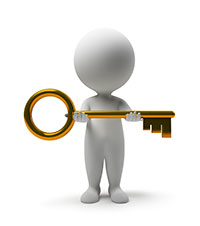 People are funny. They probably know what color is the curtain in each room and how many stairs there are to the basement, but if you ask them about the entrances of their home they would only be certain about the front door. They are accustomed to unlock the front door locks to get out and, therefore, they consider it the only entrance of the house. Most homes today have multiple entrances and the trick to the question was not to establish whether you know how many entrances you have at home, but urge you to consider whether they are properly secured with high tech systems and excellent security door locks.
Take a walk inside the house
Forget about the front door for a minute and concentrate on the other parts of the house. You should check each and every room starting with the kitchen, where there is usually the back door, checking the bedrooms upstairs in case you have balconies, the attic and end up in the basement and the garage. Big homes have great responsibilities. Your prime concern is to check the existence and condition of locks and make sure you have the keys and they both work fine. In any other case, you should have a key change or made and you must definitely test their effectiveness. If you see any problems related to rust or distortions, key replacement is the answer.
Check secondary spaces and windows
At the same time, you must not underestimate the power of windows because they usually let intruders in. You should proceed with lock fix and ensure they close properly. The inspection of each lock and key must continue to the whole house to all doors and windows. People often forget the basement, attic or garage door, but they can be the weak points of your house and you should definitely consider having the locks replaced soon while you must always check the immediate entry door from the garage to the house.